Coming soon…  additional history and visitor's information for the Shook-Smathers House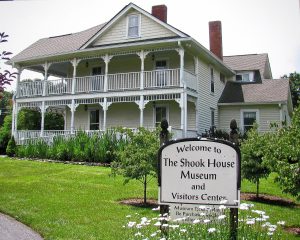 The Shook-Smathers House is located at 178 Morgan Street in Clyde North Carolina.
This historic structure was added to the National Registry of Historic Places in September 2008 thanks to the tireless preservation efforts of Dr. Joseph S. Hall, a Shook descendant.
Dr. Hall acquired the property from the Historic Preservation Foundation of North Carolina, Inc. in February 2003. The property was in need of extensive restoration and preservation measures. The structure was returned to its former glory over the next few years, earning a place in the National Registry. Dr. Hall deeded the house and property to the Haywood County Historical & Genealogical Society, Inc. in December 2011. The HCHGS maintains the property ensuring Dr. Hall's preservation efforts will be enjoyed for generations to come. The House is open to the public for tours on a limited schedule and for special events.
Save
Save
Save
Save
Save
Save
Save